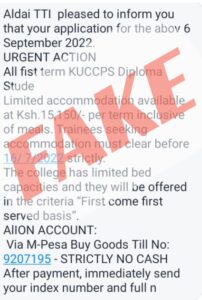 Scam Alert
Dear Guardians/Parents and Trainees are advised to ignore any SMS/CALLS from BITFLEX INVEST purporting to collect accommodation fees for the institute.
BITFLEX INVEST is not authorized to collect any monies on behalf of the institute. All payment for the institute are done through Bank account or Pay Bill registered under it's name Aldai T.T.I
Anyone who make payments to BITFLEX INVEST Till Number will take personal responsibility for the payments done.